Twitter is a short message communication tool that allows you to send out messages (tweets) up to 140 characters long. Twitter is where people connect with their updates on passions, opinions, and find out what's happening in the world right now. Twitter falls into the category of microblogging tools because of the short, disconnected messages it distributes. Businesses can tap into Twitter to expand their reach and connect with new and existing customers.
Here are some tips on basics of twitter for business.
1. Discover what's happening right now
Twitter allows you to access what's going on in your industry, community, and around the world. Use Twitter search to find out the relevant information that you need and find out opportunities where you can add value.

2. Increase your brand awareness
Create and complete your profile of twitter for business with all relevant information. Choose a twitter handle that is relevant to your name or your company's name so that people can find your profile easily. Attach a recognizable photo as your profile image and a good background cover image which talks about your business. Fill up the bio link with relevant hashtags and a clickable link to your website if any.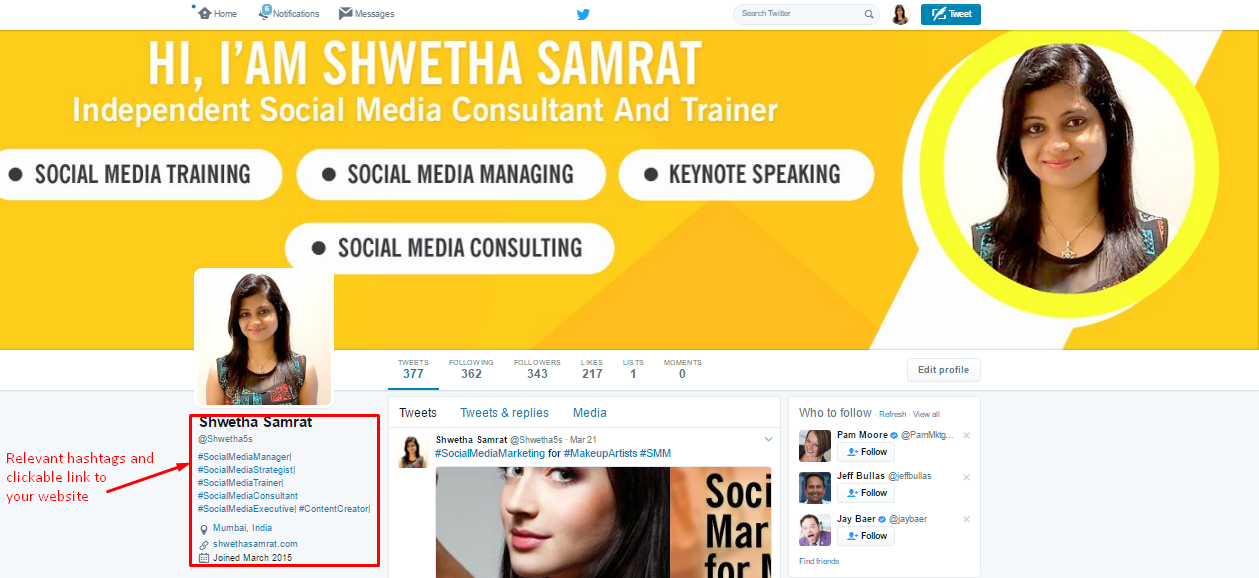 3. Provide timely customer service
People frequently talk about the products they use on Twitter, Use it effectively to provide customer service. In fact, 85% of small and medium size business's Twitter users said that it's important that businesses provide customer support on Twitter. Using it effectively help you develop a good online reputation for your business, and strong relationships with your consumers.
4. Connect with potential customers, brand advocates, and influencers
Twitter allows you to follow and interact with people outside of your personal network. It's a great way of joining or even starting discussions with influencers and industry experts to build valuable connections.
Bonus Tips : The building blocks of Twitter
To get started, here are some of the terminology and languages to learn to interact with your customers and seamlessly engage in the conversations.
a. Tweet
A Tweet is a message posted on Twitter that can contain text, photos, links, videos, and Gifs.
b. Reply
Click 'reply' to respond to anyone's Tweet. Replying to a Tweet is a way to show you're listening to them and do provide answers.
c. Retweet
A Retweet is sharing a Tweet from someone else among your followers. Click the Retweet button to share the Tweet as it is, or quote the Tweet to add a comment of your own.
d. Like
A like is a simple way to acknowledge a Tweet. It can also be useful to use as a bookmarking tool if you want to easily find a Tweet again. Tap the heart icon to like a Tweet and the creator will see that you have liked it.
e. Hashtag
A hashtag is any word, or phrase without spaces, beginning with the # symbol. People use hashtags to organize conversations and make it easier to find all content related to a given specific topic. Click on a hashtag to go directly to the search results for that topic/world without spaces. Hashtagged words that become very popular are often Trending Topics.
f. Mention
Bring a Tweet to another person's attention by including their @username in your message. You could use it to ask someone a question, to thank them, or simply to highlight a piece of content.
Hope these tips will make some difference to you just in case you are using twitter for business.